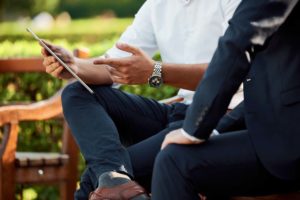 While the business side of private practice has nothing to do with your clinical training, the business side can throw challenges at you daily. Challenges regarding people, billing and collections, expenses, compliance with government regulations and insurance contacts, and on and on. What's more, these challenges are often interrelated. Taken together these fall into Healthcare Practice Management, and the need for it grows each year.
Healthcare Practice Management at PBM
At PBM we work with our practice management clients to help them keep their practices healthy while generating the most income for the practice and themselves. When we meet with our clients we look at a variety of issues, including:
Financials – profitability of the practice, potential problems areas with collections and expenses, potential cash flow issues, potential tax issues, status of division of income among partners, and other issues.
Strategic Choices – we advise clients on what insurance to accept, when to hire new associates or partners, if and where to open new locations, additional services or products to offer, whether to expand or contract out operations, reacting to surprise events, and other choices.
People – we provide advice on hiring, training, putting in place personnel policies, and handling employee issues
Government Compliance – we help our clients stay in compliance with tax, payroll, and rules governing professional compensation.
As healthcare practice management advisors for doctors, dentists, and other healthcare providers, clients choose PBM because:
We've advised thousands of practice management consulting clients since we started in 1932
We meet proactively with clients during the year, not just at tax time. We review financials and other pressing business issues.
We build proactive communications into our rate, so clients call with questions and ideas instead of worrying how much it's going to cost
Bringing Our Full Services To Clients
We also offer accounting, tax, payroll, financial planning, and retirement plans to our clients. Providing clients with effective practice management advice requires us to have access to our clients' financials. Our clients who add on our other services find it easier to deal with their practice management issues when they use us as a single point of contact.